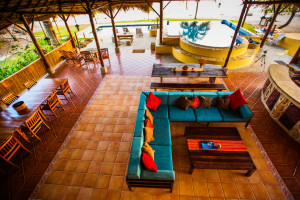 "The Inner Sanctum"
"The Hacienda" crowns the property and is loosely connected by shady terraces and a palm-vaulted walkway to the guest rooms, an unforgettable space for welcoming guests.  The open-air, 40-foot thatch palapa is the inner sanctum of the property and offers an outdoor retreat anytime of the day. Relax in the morning while sipping coffee and checking the surf, enjoy a cold beverage with friends and family while watch the sunset, and enjoy flavorful hors d'oeuvres before an amazing dinner. "The Hacienda" is the perfect setting to start and end the day.  A walkway sits behind the inner sanctum of the Hacienda to the guest rooms, with four additional individual rooms providing independence and privacy.
[hr] [/hr]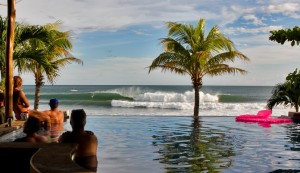 "Relax in the Shade"
Get out of the sun and stay cool and refreshed! The relaxing infinity-pool and terrace are shaded by a woven thatch roof and surrounded by the beauty of tropical paradise.  Sit back and watch your friends surf Panga Drop's while relaxing for yet another surf session at one of the three breaks in walking distance.
[hr] [/hr]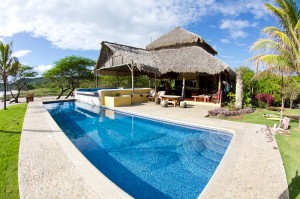 "Ocean Front Oasis"
The lap pool sits parallel with the sandy shoreline of the Pacific Ocean in which endless ocean and shoreline views are made for entertaining guests and relaxing, all while enjoying our completely inclusive dining experience, game of ping pong with friends, or just sit at the Iguana bar while watching the sunset and enjoy a cold beverage.  Steps away from every room on the property enjoy magnificent views of the sea.
[hr] [/hr]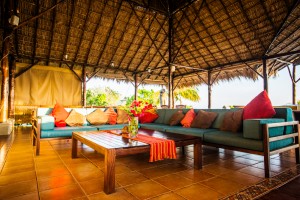 "Style and Color"
The style emphasizes a sensual blend of local colors, textures, and materials in a manner that renders the structure an integral part of its environmental surroundings.  Traditional hardwoods with elements of tropical modernism set the mood for a calming tropical oasis.  Mark and Dave's provides a blissful ocean front escape in a perfect tropical setting.