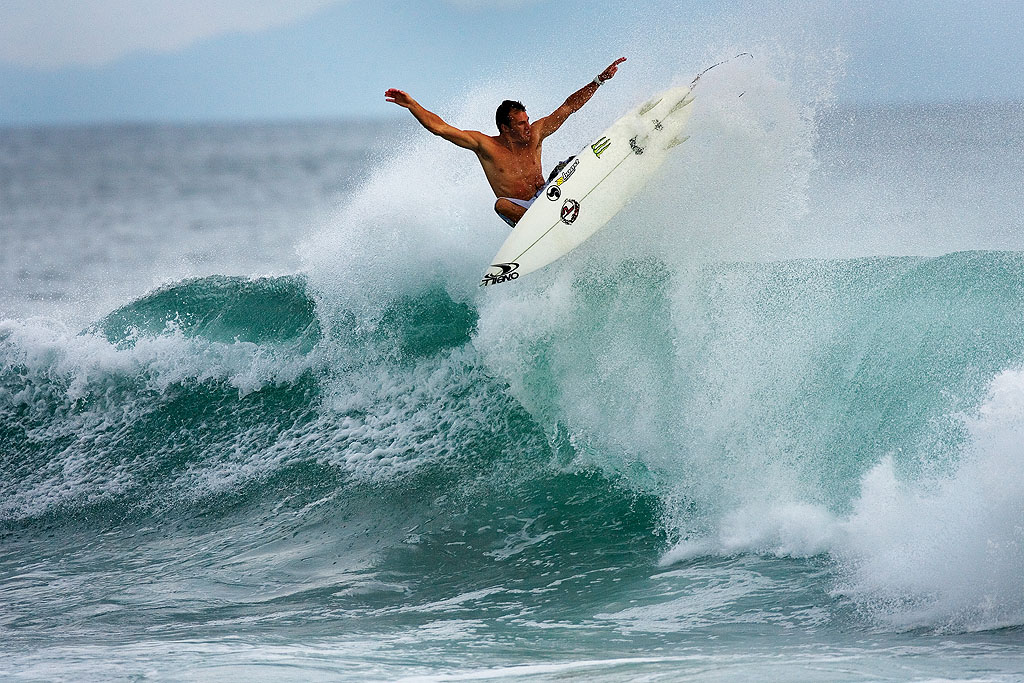 Nicaragua is blessed with an abundance of good waves, offshore winds, and sunny weather year-round. Mark and Dave's Place is situated in front of the best waves the country has to offer with a climate that averages around 80 degrees and water temps that hover between 75 – 85 degrees. The surf rarely drops below 2 feet at any time during the year and bigger swell events are likely – up to 8 feet – between April through September.   Mark and Dave's is located ocean front on one of the most fertile surfing beaches in all of Nicaragua. A boat or car is not required and there is little reason to go anywhere else! The wind tends to blow offshore due to the Lago Nicaragua effect so be prepared for a good mix of barrels, beach breaks, reefs, and points during your visit.  There are several other breaks within driving distance or a boat ride away.  Our surf guide will set up a trip to the break of your choice including Astellero, Chacosante, Manzanillo, Outer Reef, Playgrounds, Popoyo, Rosada, Santanas, and many more!
[hr] [/hr]
Playa Colorado
Playa Colorado is arguably one of the best beach breaks in Nicaragua, if not Central America. Any hint of south swell gets funneled into A-Frame peaks groomed to perfection by the constant offshore wind.  The wave itself is a never-ending mix of barrels, peaks, sections, and ramps that revolve around the mood of the ocean and tides.  Playa Colorado is a world class beach break with long spitting barrels when the elements come together.
[hr] [/hr]
 Panga Drops
Panga Drops (aka: Mark and Dave's) is located directly in front of the Mark and Dave's resort.  A deep water, soft bottom reef break is an absolute magnet for swell.  It can turn on with any pulse the Pacific Ocean throws at it.  Panga Drops breaks from various swell directions and holds up nicely with offshore winds or no wind at all.  Surf a very playful right that breaks all the way through to the inside. Ideal for big top turns and cut backs with a solid section on the inside great for big maneuvers.  On the other side of the peak lies an against the grain left ideal for multiple cutbacks and playful ripping that can stand up for expressive turns through the inside.  It can hold any size without closing out and has been compared to a tame Sunset Beach, Hawaii crossed with ripple conditions at Wind and Sea, La Jolla.  Best of all, your friends and family can film/photograph you surf from our infinity pool!
[hr] [/hr]
 The Right
The Right down the beach is a fickle right hand wedge that hugs the corner of a picturesque rock cliff. The waves here refract and bend around the headland and ultimately open up for a very entertaining 50 to 75 yard right hand wave that eventually extinguishes itself into the bay.  The Right does not break on a consistent basis, but can be compared to various global world-class wedge breaks when it's on.  The Beach stretches for over a mile and is highlighted by Playa Colorado and Panga Drops.  Besides these two superb waves the entire beach has the ability to transform into a very good beach break depending on wind, tide, and swell. The area directly out front of Mark and Dave's can get remarkably good on a mixed swell and has the ability to fire on any given day.